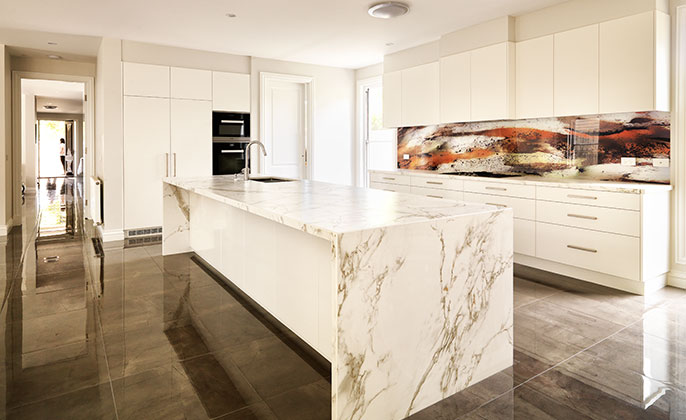 Did your kitchen cope with the Christmas day feast this year?
If you are anything like me, coordinating the roast turkey, vegetables, gravy and assorted trimmings to be ready to serve at the one time… is more than a little challenging.
And while it is true, a new kitchen will not make you cook like Jamie Oliver or look like Nigella while doing it; having a well designed, high functioning kitchen on your side is super helpful and makes days like Christmas a smoother, more enjoyable ride. (Not to mention… it's just great to have a good kitchen, all year round!)
So if you are contemplating the notion of a new kitchen in the New Year, we have an idea for you that will make yours unlike any other.
'How?' you ask.
Instead of playing it safe or being 'beige' with your splashback choice, by using a plain colour glass option or tiles for example. Instead, you could be a little more adventurous, introducing some colour and letting your personality shine through. Our idea is to encourage you to put your mark on the all-important heart of the home, with something creative.
And now… take a peek at just a few of the incredible kitchens we have had the pleasure to assist with this year. Fine examples of people putting their unique 'mark' on the home they live in.
And for more inspiration and ideas for your home, please view the VR Facebook page.