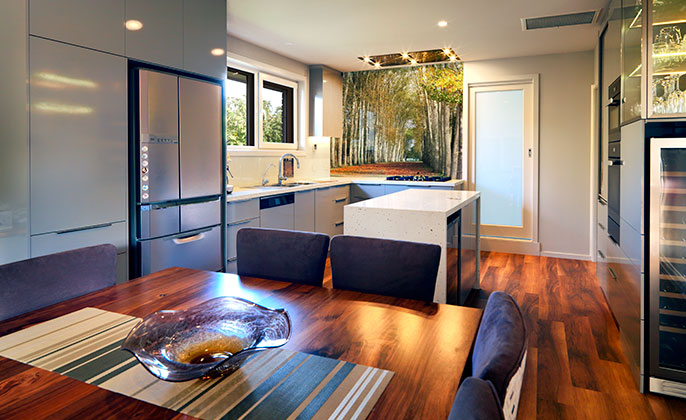 The bench to ceiling format of the VR Art Glass splashback creates a striking focal point for the kitchen and dining area.
The warmth of the timber flooring and dining table reflect colour from the tree lined avenue photograph: just one of the elements making the choice of image for the splashback fit so perfectly within the home.
Of even greater fit and cohesion however, is the fact that the image has great significance to homeowner Poppy. As a photograph she captured, there are many things loved about the image. Poppy could visualise this photograph within the planned renovation.
There was however a technical obstacle to be overcome…
The size of the kitchen splashback is an impressive 2m wide x 1.6m high.
When Poppy first brought her image file in for Michael to look at, the realization was, the size of the file was not going to be large enough to provide a quality print. The file was just too small for the task.
But on further reflection… knowing how integral the image was to the renovation and how important it was to Poppy, Toni and Michael came up with an idea to 'tweak' the file, so that a print for the sizable splashback area could be done, while still looking visually fantastic.
Many photographic enhancements were made to Poppy's original image, including:
Removal of people in the central lawn area
Removal of people in the side lane area
Removal of sign in the side lane area
Removal of a bird's wing along the top of the photo
Improved clarity and saturation of colour
Crop image to suit the splashback format
Along with one more very significant creative treatment change, to enable a quality reproduction of the image at the large splashback size.
Using creative photographic skills, VR were able to make many enhancements, in order for a quality splashback to be possible.
Without making the improvements to the supplied photograph, the end result would be have been disappointing for Poppy. Instead – this is what Poppy had to say about the experience and the new splash back:
We were very impressed with both Toni and Michael from Visual Resource. We wanted to use our own artwork for a splashback (which was not at an appropriate resolution for the size of the splashback that we wanted). However, Michael waved his magic over our artwork, removed all the blemishes and enhanced the image to produce a truly beautiful picture of the required size.  Everyone's first word when they see our splashback is "WOW!"

Apart from being skilled and creative, Toni and Michael were always a pleasure to work with.  We would highly recommend Visual Resource to anyone wanting a great visual splashback from people who are hands-on and work calmly to get the best outcome.
Further details about the kitchen renovation:
Sam Robinson Interior Design designed the kitchen and dining areas.
Victoria Kitchen Company built the kitchen.
Finishes Include:

Benchtops: WK Quantum Quartz -Pearly Shores
Cabinetry: Polytex – Stone Grey Sheen
Splashback: VR Art Glass featuring the owners own photo.
Schweigen Ceiling Mounted Rangehood
Flooring: Karndean, Van Gogh Mid Wood – Lancewood