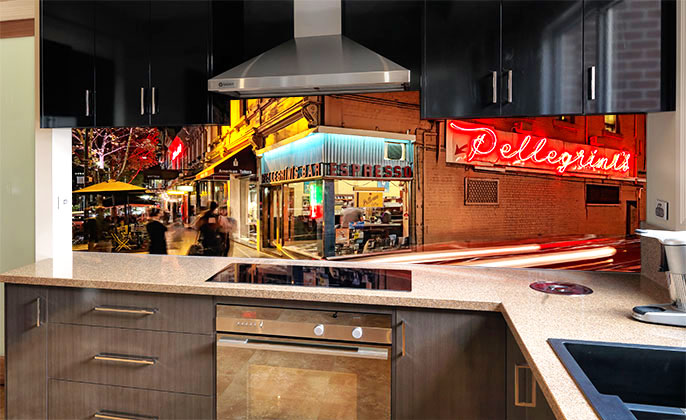 You don't want your home to be just like everyone else's, and you know individuality lies in the detail. That's why you're after a bespoke splashback, because focal points such as this set a home apart and give it a sense of your style and personality.
These days a splashback can be a veritable work of art right in the very heart of your home. This is particularly true if you consider using original photographic artwork as the source of your splashback creative.
Discerning home owners come to Visual Resource because they appreciate that we are first and foremost providers of the highest quality, most stunning bespoke photographic artwork produced by professional photographer Michael Collins. Over the years we have become incredibly skilled in printing these images onto the most spectacular mediums; splashbacks having become one of the most popular choices of 'canvas'.
WHY OPT FOR AN ORIGINAL ARTWORK SPLASHBACK?
Imagine your next dinner party. Guests come over early in the evening and drinks are poured, nibbles are enjoyed, and conversation flows whilst a meal is prepared. For many of us, it is the kitchen that is the soul of a home and it's here much of the socialising is done until meals are served.
And it's moments like this when your original artwork splashback really comes into its own.
Such a splashback is an incredible backdrop – it can deliver the interior anchor for the entire space and be a regular talking point. It can be that coveted feature everyone else envies yet is unlikely to ever have, given its carefully managed limited release.
ALL ORIGINAL ARTWORK REQUIRES DUE DILIGENCE
If you are considering original artwork for your splashback, then it is imperative you research beforehand so that you are assured a bespoke piece. It would be heartbreaking to invest in a supposed original, only to later discover that 'your' image is in fact available en-masse, and has been used generically by companies on brochures or merchandise, therefore compromising the integrity of your interior. Removing a splashback is not as easy – nor as cost effective – as simply taking down a framed photograph from a wall…
WHY VISUAL RESOURCE?
We know this is more than just a splashback – this is a feature in the home you are so carefully creating.
We understand that it is the calibre of the artwork that is of upmost and enduring importance; the glazing and print solution must adhere to this high standard. Approaching this process the other way around – selecting a generic image after the glazing and printing solution – can lead to long-lasting disappointment if not managed by knowledgeable professionals.
Our consultants have extensive experience in this and every other stage of the creative process – we help you select the ultimate artwork for your home, and we work fastidiously to ensure the finished piece is seamless, remarkable, and precisely what you always had in mind.
This is not merely a splashback – this is a work of art in your home.