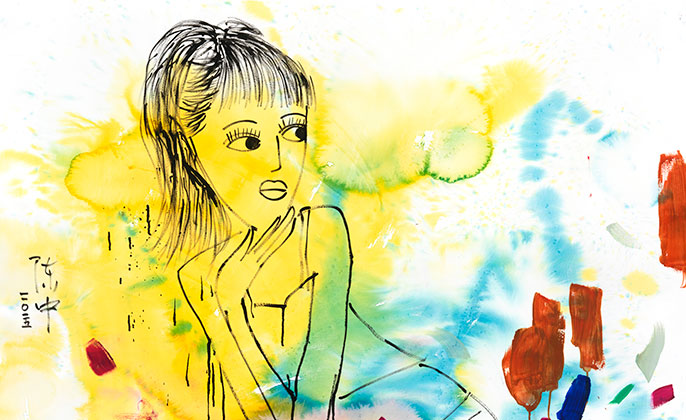 When art dealer and 204 Art Space gallery director June Zhu selected the art for her new bathrooms, two pieces by artist and friend Chen Zhong were standout, easy choices.
About the process
The large original artworks by Chen Zhong were provided to Visual Resource on paper, each around 1.5 x 1.3m in size. Of course, paper in a bathroom 'wet area' would not survive – paper just does not love water, unlike VR Art Glass.
Michael from Visual Resource digitised each artwork, so the art could be prepared and printed onto glass.
Reproduction of any artwork requires careful colour management, both in the capture (digitising) and in the printing, especially when glass is involved. Being a photographer, Michael used his imaging skills to convert the art on paper to a digital format, and then during the print stage, he ensured the colour (on glass) remained true to the original.
Another important point when using an artist's work: the homeowner June Zhu had permission from the artist to reproduce his work within her art filled home.
About the art
From the back streets of Shanghai to the exuberance of contemporary Australian culture, Chen examines, explores, questions and celebrates the transcultural identity of being an Australian artist with a proud Chinese heritage.
Beginning with small sketches and paintings, Chen draws inspiration from everyday life, contemporary subjects and traditional Chinese ladies to blend the ancient themes of Chinese culture with a dynamic and ever-changing new world.
His practice of the ancient craft of Chinese ink brush painting is juxtaposed against fresh pops of pinks, blues and yellows. Counterbalancing traditional Chinese images and art form with sophisticated, modern technique is a cornerstone of Chen's work.
About the artist
Chen Zhong was born in 1970 in Zhongshan, China and arrived in Australia at the age of 19 in 1989. Today he lives and works in Melbourne.
Chen's exhibiting history has taken his artwork throughout Australia, Beijing, Hong Kong, Singapore and New York.
About 204 Art Space
June's gallery 204 Art Space, specialises in contemporary art. Presenting the work of artist Chen Zhong, along with many renowned and emerging artists. Located in Kensington, Melbourne, the gallery is over 800m2 of exhibiting space, offering a unique experience for visitors. For more about 204 Art Space, past and future exhibitions, please click through to the website.
About the bathrooms
The bathrooms were designed, project managed and completed by Philip Theo of TSG Tiling Services and Mitcham Tile Centre. To see more great work completed by Philip, please visit the Mitcham Tile Centre website.