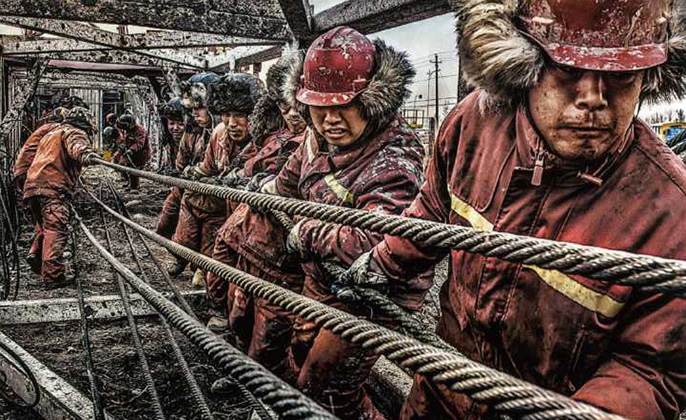 Ballarat International Foto Biennale.
Michael and I love photography. (Perhaps you do too?) It's the passion for photography that inspires us to venture down the highway, visiting the Ballarat International Foto Biennale every two years.
The range of photographic styles and collection of works presented by the BIFB is simply vast – well worth a drive and day out. For a very brief teaser of one exhibit you can see, the works shared here are by Photographer Pang Xiangliang, Daquing China, with his exhibition titled, 'The Post – 1980 Drilling Workers'.
We found the exhibit by Pang gritty, industrial, harsh and real. The workers in these harsh conditions are heroic, presenting human qualities of endurance and perseverance. Much to our delight, the Photographer, his Wife and Niece were at the venue and keen to speak to us about his works. He even took some photos of us!
Within the Core Program Catalogue, Wu Peng wrote of Pang's exhibit:
In order to record the hard working environment of 'the post-1980' drilling workers, Pang Xiangliang has spent countless hours taking photos in the well site in cold winter. With regards to shooting, Pang Xiangliang upholds the basic principles of documentary photography and its moral bottom line, which makes the pictures truly reflect the drillers' work and the precious moments of life.
Perhaps you will be tempted to go and take a look? See what you think of the photography by Pang and many other artists exhibiting at this years Ballarat International Foto Biennale – running from 22 August through until September 20. The International Foto exhibition is well worth a drive to Ballarat for a day of visual & creative discovery.
Without giving too much away about the experience that waits, a quick tip to get you started on your path is… Stop by the BIFB office (beside the Ballarat Mining Exchange – 12 Lydiard St North), collect a Festival Program, head for a nearby café to peruse the Program. The Program will provide a quick introduction to the scope of Photographers on display throughout the many fascinating locations exhibiting works. Then, get on the move and start discovering!
About the Artist
Mr Pang was born in Ta'an, Shandong Province. He worked as an oil worker and an art teacher before he undertook study and became a member of the judiciary. He is a member of the Chinese Photographers Association, the Heilongjiang Photographers Association and is Honorary Chairman of the Daqing Oil-Light Photographers Association. He was awarded Outstanding Photographer in social life photography at the Pingyao International photo festival in 2013 and again in 2014.
To discover more about the many wonderful photographers and creative exhibits presented by the festival, check out the organisers website link: