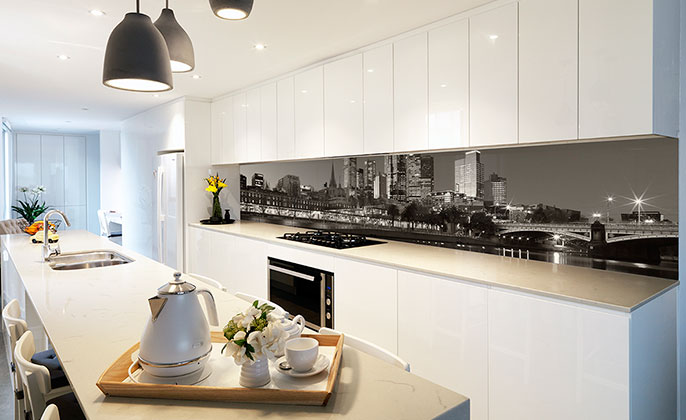 When we first met in late 2014, Joan and I spoke about her new apartment, yet to be built. Joan was actively involved with the layout and interior design aspects, and she planned for 'a star' within the centrally located kitchen, as a way to give the interior a focal point and a distinct personality. The solution – VR Art Glass!
On viewing the Melbourne photographic artwork collections on the VR Gallery, it did not take Joan long to find 'the one'. 'Melbourne Mono # 4' captured by photographer Michael Collins celebrates the architectural diversity Melbourne offers, in a character filled soulful way.
Visual Resource creates incredible photographic artworks, and then finishes them onto glass. VR Art Glass gives an eye catching and long lasting splashback option.
And what does Joan think of her new kitchen, complete with VR Art Glass?
I love it.

It just looks so good!

I said I wanted it to be the STAR in my apartment and it certainly is that!!!
Thank you Joan, for trusting VR to deliver the all-important 'star' within your brand new apartment.
We think it looks amazing!
Cheers,
Toni