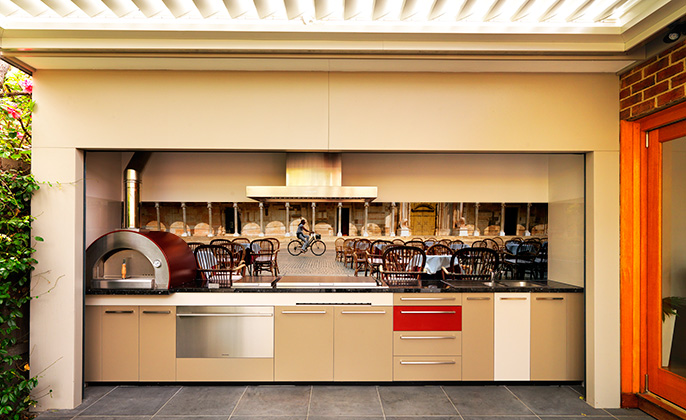 With summer on the way, and with a wonderful outdoor kitchen and dining area such as this: the temptation would be to eat al fresco every night of the week!
When planning the project, homeowners were seeking a point of difference and a talking point for the outdoor kitchen… with the talking point being for the right reasons. No responses of 'hmmmm that's interesting…' followed by an awkward silence were wanted!
There is little chance of awkward silence while people enjoy this delightful space. There are so many things for them to talk about.  Here are just six things we love about this al fresco kitchen…to get the conversation started.
One: THIS OUTDOOR KITCHEN HAS CHARACTER
When the homeowners first spoke to Michael and I about the outdoor kitchen they said the inspiration was to create a deli type feel… and for the space to evoke feelings about food. 'Cremona #2' from the Italy Collection was the artwork selection homeowners made, and it's such a perfect fit for the inspiration and creative brief. Not only do the tones of the feature splashback compliment the surrounding finishes beautifully, the visual shows an outdoor café, set and poised for the evening trade ahead. Are you thinking about what sort of tasty Italian food the café may serve?
Two: CLOSE PROXIMITY TO INDOOR LIVING
The outdoor cooking area is located right next to the indoor living and kitchen area – making it so easy to expand the indoor and outdoor living spaces into one large zone. Imagine the convenience when entertaining!
Three: CLEVER DESIGN WITH BUILT IN – HIDE AWAY QUALITIES
While you cannot see it… there is a roller door and when closed the entire outdoor kitchen is neatly hidden away. Not to mention protected from the elements too! The clever design enables a fully equipped outdoor kitchen, as well appointed and functional as any interior kitchen: all cocooned within a protective and streamlined shell.
Four: STAINLESS STEEL COHESION
The traditional stainless steel oven and cooktop appliances from inside – are replicated with the outdoor barbecue and gas wok burner. Even the pizza oven boasts a stainless steel finish.
Five: GENEROUS PROPORTIONS
The outdoor area is large! The size of the VR Art Glass splashback is over 4.5m wide x 0.8m high. The generous scale of the space allows family and guests to relax while spreading out around a good-sized dining table. (While not pictured here, the space is home to a sizable dining table.)
Six: OVERHEAD SHELTER
The Vergola (an opening louvre roof system) provides protection from the elements (sun and rain), along with privacy.
What do the homeowners have to say about the end result and what it was like to work with Toni & Michael (from Visual Resource) for their important home enhancement project?
"It looks fantastic! Dealing with you has been the best experience of our renovation adventure." Dean