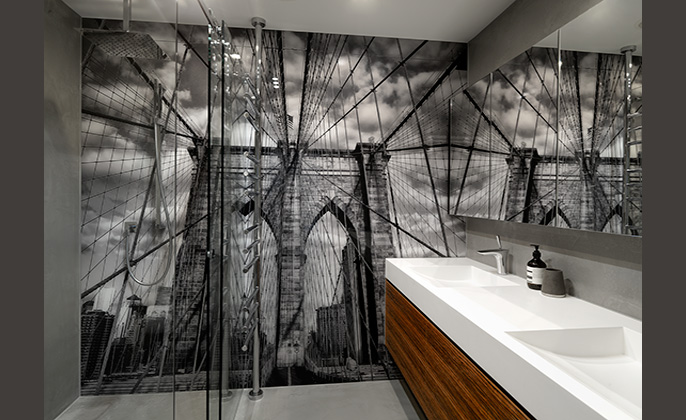 The lure of a warm shower during the depths of winter is hard to beat.
And why not linger longer under the warm spray when you have a treat for the eyes to feast upon as well?
The Port Melbourne apartment enjoys a bathroom boasting a wall sized VR Art Glass feature. Not a tile or grout line in sight! Instead, the sleek and seamless finish of VR Art Glass.
The bathroom design by Sam Robinson was always destined to be fresh and stylishly appointed. The decision to incorporate a wall sized VR Art Glass piece spanning from shower to vanity delivers a statement, as well as a stamp of individuality for homeowners.
The couple selected an image of Brooklyn Bridge for its personal relevance, along with its dramatic architectural stature. The result: the bathroom is beautifully designed, visually engaging and is one of a kind!