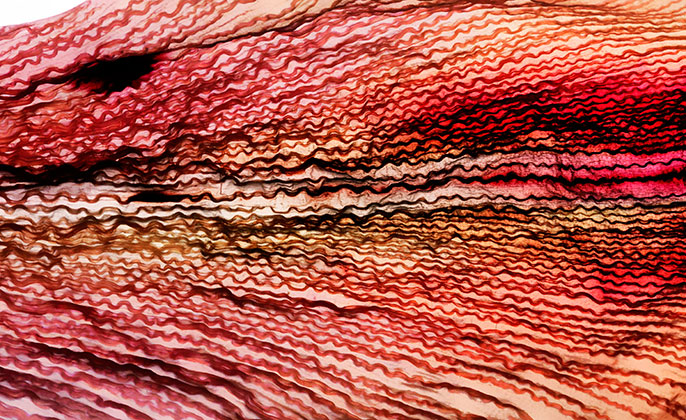 ORGANIC MATTER is one of the trends predicted to influence interior finishes and schemes for 2017, by Lead Futurist – Victoria Redshaw.
The Organic Matter trend explores possible creative outcomes of extreme naturalness that is not pruned, coaxed or restrained. It is unrestricted and unencumbered, effectively tipping the balance of control back to Nature.
In this trend, the laws of Nature rule.
Presented by Victoria Redshaw, Lead Futurist of Scarlet Opus (UK)
The Floral Threads collection of photographic art by Visual Resource reflects the influence, and captures the inspiration of the Organic Matter trend beautifully.
Created using an extreme macro view of the natural texture and colour given to us by nature: Floral Threads artworks offer no refinements, processing or taming of nature. Instead, nature is unleashed in full, glorious, organic colour and texture.
We hope you enjoy the raw, unstructured wildness the Floral Threads collection has to offer.
What is a Futurist?
Recently at the Décor & Design interiors event held in Melbourne, Victoria Redshaw, the Lead Futurist for trend forecasting agency Scarlet Opus (UK) presented three distinct upcoming trends for 2017 and beyond. Victoria Redshaw's audience was gifted with the startling end result of the 'Futurists' trend forecasting work.
Lisa Green, Editor in Chief of 'Australian House & Garden' magazine, sheds some light on how the work is done. She wrote in the August 2016 edition of H&G
The world of the trend forecaster is a strange one. Forced to exist in the future, they spend their time gazing into the modern equivalent of a crystal ball, sifting through economic, social, consumer drivers and highly visible industries such as fashion, automotive and technology to predict what consumers will do next.

Victoria Redshaw's report brings together the collective mutterings of scouts the world over, grouping like-finds into categories then filtering them further to arrive at broad-brush 'movements' that are then boiled down into subsets of social movements / consumer sentiments and further distilled into colour palettes for 2017 & 2018.
After reading this insight into the Futurists process, I continue to be intrigued by the work of Lead Futurist Victoria Redshaw and her UK agency Scarlet Opus. I understand there is extensive research and rigour that goes into the development of the trends predicted.
The trends ring true to me and I look forward to seeing the predicted influences in colour and materials start to filter through people's projects. If (for example) the Organic Matter trend strikes a chord with you, perhaps a piece from the VR Floral Threads collection will make an excellent addition to your kitchen, or an artwork for the wall.
View the full collection for inspiration of the extreme naturalness kind.